First I would like to say that I am not being compensated by The Apprentice for blogging about the show (but if they'd like to, I'm open to discussion!).  I just watched the November 4, 2010 episode – Dressed to Kill – and it had too many tie-ins to licensing to not write a little something.
In this task, the two teams were asked to create a 4 page promotional brochure for the Donald J Trump line of clothing at  Macy's.  They would be graded on presentation, creativity, brand integration and more.
This is the perfect example of promoting a licensed brand.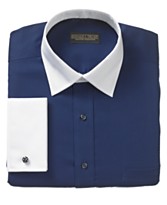 Donald J Trump is the brand – why would someone buy his brand dress shirt, tie or cuff-link over another?  Because of what he represents and what the buyer – be it a wife or girlfriend or the man who will wear the clothing – will feel about them.  It's the emotion and perhaps confidence a person feels when they put on a Donald J Trump shirt, tie or cuff-link that makes Macy's pay the royalties.  My guess is there are other products that are of equal quality – it's the NAME and the BRAND that will help sell-through.
During the task, the teams had to create a strategy based on the Trump brand. So the first thing they had to do was define the brand. Things that come to mind are wealth, power, entrepreneur, risk taker, business savvy. According to one group, and Donald Trump, sexual prowess is also part of his brand.
They then had to decide on visuals and copy that would show the products and represent the brand, creating a 4 page promotional piece for Macy's executives to review.
I highly recommend you watch this episode – if you have on demand on your tv it's episode 1008 or you can watch full episodes online(this one is available through 12/30/10) at http://www.nbc.com/the-apprentice/
Watch how the teams strategize and make decisions on everything from overall concepts to presentation.
Some food for thought …
How do you define your brand?
What lessons can you take from the show and use in creating your own promotional pieces?
Are you consistent with your message in all areas – from web to print to in person?
Here's to your creative success!
– Tara Reed
P.S.  Need more food for thought? Click on over and get the teleseminar replay by Paul Brent – How to Brand Yourself for Success in Art Licensing.